LEDinside:Inventory Preparation for Christmas Hot Season to Help Reviving LED Industry
---
---
Based on the industry researcher LEDinside's analysis and statistics, in August 2010, listed LED manufacturers in Taiwan reported total revenue of NTD 10.593 billion, posting a 2.4% decline, compared with revenue of NTD 10.853 billion in July and a rise of 64% YoY. The revenue for LED chip manufacturers in August reached NTD 4.89 billion, down by 1.6% from July. The revenue for LED package manufacturers in August amounted to NTD 5.70 billion, down by 3% from July. The constant increasing momentum in revenue for nearly half a year ended in August in the LED industry.
LED Backlight Market Analysis
The LED market in 2010 was dominated by large-sized backlight demand. Therefore, the penetration rate of LED back-lit TV and the sales volume of IT products greatly affected the LED industry. Due to the poor sales figures of LED back-lit TV in 1H10, plus the high inventory level of LED panels in Korean panel makers, the LED industry faced the short-term inventory adjustment.
Both IT vendors and TV brand vendors constantly offered great price promotion to lower their inventory, and the result can be seen promptly. However, for the upcoming peak demand during Christmas season, TV brand vendors started to replenish their inventory. Because LED components belong to upper stream of the LED supply chain, the orders which are placed in September and October aim at the peak demand during Christmas holidays. 
From panel makers' perspective, Taiwan's panel makers will increase the capacity utilization rate for peak demand during Christmas season, reflecting that panel makers have great confidence to achieve the sales targets for the Christmas hot season.
At current stage, LED manufacturers still wait for the orders from panel makers. However, due to the rising capacity utilization rate among panel makers, it is expected that LED manufacturers have chances to get orders during September and October.  The traditional slow season for TV and IT products comes in the wake of the Christmas hot season. Hence, LED vendors can merely fight for the orders from new models of LED back-lit TVs next year and from the appreciation of yen, which may drive the next growth momentum.
Revenue of Chip Makers in August
The revenues of Taiwan's chip manufacturers posted a sharp increase of 74% in August compared to the same period of last year, while it posted a slight decline of 1.6% MoM. The growth momentum for some LED chip manufacturers has begun to slow down, even begun to fall. 
The main attribution was that large-sized backlight orders began to get impact from inventoy adjustment among panel makers. In addition, insufficient MO source also impacted on the revenues among vendors. Nevertheless, the massive product lines and large customer base  in companies such as Epistar could timly compensate the decreasing orders from Korea vendors. Thus, its sales revenue continues to reach record highs.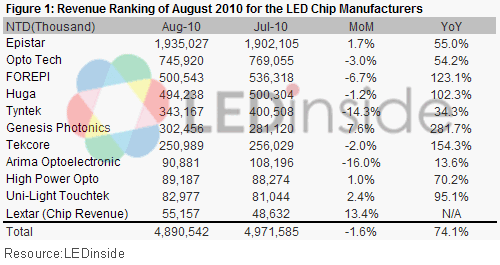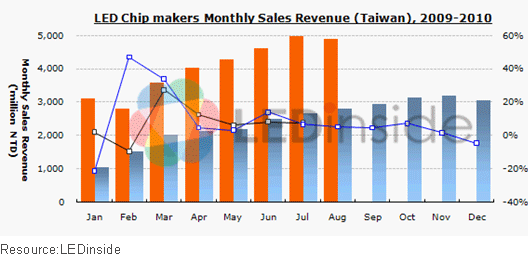 Revenue of Package Manufacturers in August
The revenue of LED package manufacturers rose by 56% YoY, but reduced by 3% MoM. Because of weak demand of LED end application, especially LED panels which were applied on NB and LED back-lit TV, the revenue in August continued to be influenced. As a result, growth momentum in revenue among package manufacturers slowed down. Hence, package manufacturers began to focus on the applications in LED lighting, and it is expected to support the LED demand.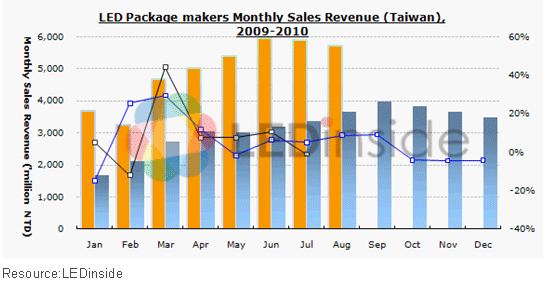 ---