LEDinside: Compound Annual Growth Rate of LED Light Source Reaches 32%
---
---
Jan. 14th,2010------Energy-saving is one of the key focuses of current social concerns. There are significant differences between various energy-saving technologies – while any technology that reduces power consumption saves electricity fees, and reduces environmental pollution by lowering carbon dioxide emission levels, some technologies consume so much energy to an extent that it offsets the amount of energy saved. Nonetheless, these technologies help lower pollution levels. Says LEDinside.
 The solar panel system and its high-efficiency power conversion equipment are extremely expensive, and the building materials with heat insulation or a heat exchange system are not common. The more easily accessible products related to green buildings are LED lighting and CFL lighting. Regulations to phase out incandescent bulbs and preferential taxes polices for companies that encourage the use of these energy-saving lights stimulate demand for energy-saving lighting, according to LEDinside.
 
 Energy-saving technology in CFL lighting is quite mature, and its price is at an affordable level to the public. Apart from the implementation of regulations to phase out incandescent bulbs by governments around the world, electric power companies in the US market also provide users with CFL bulbs, either free of charge or at an extremely low price. These moves significantly boost the shipment of CFL lamps. China produced a total of 62 million CFLs in 2008, and 120 million in 2009 (including bulbs and tubes) which accounts for about 80% of CFLs used worldwide.
 
As for LED lighting, it was only emerging before 2008. In 2009, the number of LED lighting related products rose significantly. In addition to public area lighting and commercial space lighting, general lighting for household use are also introduced in the market.
 
The lifetime of CFLs is long, but LED lighting products claim to offer longer lifetime, but their costs are higher, too. Major LED lighting products on the market include MR16 series lights, freezer lights, strip lights, track lights, cabinet lights, landscape lamps and arc lamps (can be used for direct and indirect lighting), and nightlights. On the other hand, CFLs are mostly seen in residential buildings, such as replaceable bulbs (eg. E27), ceiling luminaire, downlights, and surface mounted lights. The T5 tubes are also widely used for the direct lighting of convenient stores, offices and other indoor spaces.
 
Although CFL offers high luminous efficacy at a low cost, its mercury content is problematic - if the bulb is broken, the mercury vapor leak is harmful to both the health and the environment; furthermore, it cannot simply be thrown into the trash bin as the groundwater will be contaminated even after waste processing. In this case, LED lighting is more suitable as the light source for general lighting in the future. Developed countries such as EU members are conducting researches on the development of regulations of phasing out CFLs, which will also help boost LED market.
 Based on our observation of the market, demand for LED lighting will continue to grow, especially after a wide variety of product technologies have been developed, the overall product cost has been lowered and the luminous efficacy enhanced, which gradually empowers LED lighting to step onto the general lighting stage. LEDs are becoming more widely used as the main light source.
 
In 2010, a phenomenal growth will be seen in the high lumen LED lighting system for commercial-use, this is because the LED lighting for household-use is still too expensive for most consumers. Backed by its long-term benefits, energy-saving and environment-friendly attributes, and its relevant tax reductions, there will be a substantial increase in the use of LED lighting in commercial spaces such as the parking lot, office space, factory facility, and warehouse. LED lights can replace not only high pressure sodium lamps, halogen lights, incandescent bulbs but also CFL and fluorescent lights in some areas.
LEDinside estimates that rapid growth and widespread adoption of LED commercial lighting will take place in 2010 and 2011, while LEDs used for household lighting will not take off until 2011 or 2012, the key year being 2012.
 
The market penetration rate of LED light source is expected to reach 3.7% in 2010 and the compound annul growth rate between 2009 and 2013 is estimated at 32%.
 
Challenges faced by lighting include factors such as technology, specification, thermal dissipation, price, as well as competition from CFLs and fluorescent lights. In particular, the T5 light tube for office lighting offers luminous efficacy of 100 lm/W and its price is much lower than that of the LED. Considering issues with glare and luminous uniformity, LEDinside believes it may take some time before popularization of LED lighting in office spaces takes place. Furthermore, there are also the ultra-compact CFL products that offer good luminous efficacy at only 3W. These compact CFL bulbs pose a potential threat to comparably-sized LED bulbs as they are well-suited for applications in smaller areas.
 
With continued implementation of government policies, the penetration rate of LEDs in architectural lighting and commercial space lighting will increase significantly. In the future, development in the LED will create a win-win situation for both the consumers and industry players.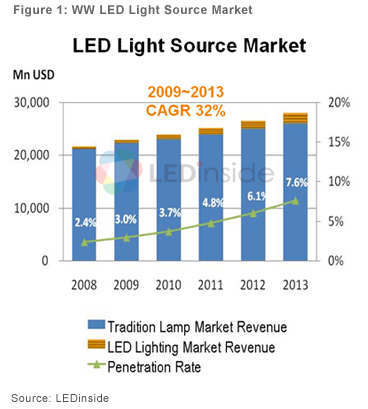 ---