WitsView's MCI increase shows boost in TFT-LCD market confidence
---
---
Taipei, January 12, 2008---In the wake of the severe downturn in the TFT-LCD industry last year, the MCI index underwent sharp persisting declines since June. It subsequently even fell to a new historical low of 3606. Although a signal in an improvement in the market fundamentals occurred in early December of 2008, where the index rose past the 4000 level and the 20-day average, it was unclear whether it was only a temporary trend.
But the MCI index stood above 4000 in the remaining part of December, mostly fluctuating between 4270 and 4100. Moreover, as a double-bottom emerged at the end of December, it further confirmed a possible new pattern development. Double-bottom patterns are often viewed as a possible downtrend reversal in technical analysis.
Indeed, the MCI index started off the new year with a rather sharp increase. It reached a high of 4710, and rose past the 60-day average. Meanwhile, the 20-day average also crossed above the 60-day average. These developments further depicted a strengthening in the MCI index.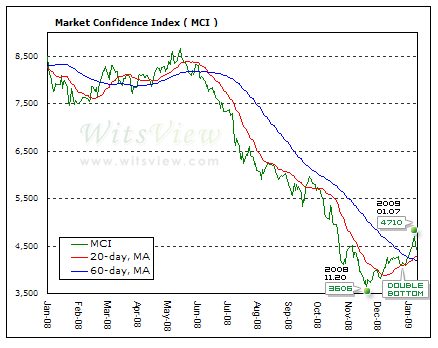 Market-wise, conditions do appear to be improving, as WitsView's latest panel price survey shows a stabilization of monitor panel prices. WitsView's Jan09 Market Status Update report points out that the drop in the panel supply has sharply outpaced the decline in demand, thus creating the market mechanisms for panel prices to hit bottom in the near future (the first to hit bottom will be monitor panels).
A rise in panel prices is very important, as any increase can help improve the financial situation of panel makers and possibly boost some market demand. Thus, whether the MCI index is able to return above the 6000 level, which would be an improvement from WitsView's very low market confidence categorization to a low confidence categorization, will depend significantly on when an actual price increase occurs.
About MCI
MCI, which stands for Market Confidence Index, is an indicator tailored for TFT-LCD industry. In the past, marketers tend to use the mainstream panel prices to diagnose the health of the TFT-LCD industry and predict its market trend. However, as the application sizes vary and market focus changes all the time, it is never easy to find an appropriate tool to judge the market climate. In view of this, WitsView develops MCI, aimed to become a mutual-language among industry participants for effective communication on industry outlook and market trend.
For detailed information, please check out MCI introduction.
About WitsView
Founded in the year 2004, WitsView, a subsidiary brand of DRAMeXchange, is composed of a team of TFT-LCD industry experts. The research field covers the development and market trend of upstream components, mid stream panels and downstream system integrators and retailers.
For more about WitsView, please visit www.witsview.com
---