Manufacturers jump aboard "Bandit NB" bandwagon amid market frenzy
---
---
Manufacturers jump aboard "Bandit NB" bandwagon amid market frenzy

April,15th--Given the affordable retail prices and China's attempt to make the Internet more accessible to its people, "Shan Zhai Ji" or bandit NBs have become increasingly popular in the country. DRAMeXchange believes the strong market potential will continue to spur more manufacturers in rolling out such products that are equipped with Internet connectivity and simple entertainment functions.

According to DRAMeXchange, many bandit cell phone makers have begun to focus their attention on tapping the NB segment. Currently, there are 300~400 such manufacturers in China. The average price of these bandit NBs stands currently at RMB 1,400~RMB 1,500, where some can be bought at an even lower RMB 900. Since the Netbook market hype, low-priced NBs have created a new business segment, where the key to success is a cheap price tag..

Despite the cutthroat market competition, manufacturers do not appear to be deterred. Based on DRAMeXchange's estimates, bandit NBs already account for 30% of manufacturers' overseas sales. The growth of these low-priced NBs is expected to continue, especially in the new emerging markets.

From a component supply standpoint, production of the bandit NBs is currently concentrated in the Chinese city of Shenzhen, which is home to many electronic makers. From MP3 players and cellphones to the recent netbooks, the supply chain is very complete. DRAMeXchange believes bandit NB makers are already capable of 100% producing such products by themselves, spurring them to develop lineups sold under their own brand name. For example, Kai Ju, a large-scale industrial company, has announced it will invest RMB 10 billion in developing its own "Kintell" brand, and has set an annual production target of 5 million NBs.


However, due to the more varied components and complicated integration process, it should be noted the technological barrier in entering the NB segment is higher. Companies with a smaller scale are unable to produce key parts, such as the CPU, hard-drive, motherboard and batteries, which undoubtedly raises the cost structure of the bandit NBs. In addition, whether a comprehensive after-sales service can be provided is also an important issue.


What are "Bandit NBs"?
The meaning of "Shan Zhai" represents low-price and a resemblance to products offered by big-name brands. It first came under the spotlight when Taiwan-based IC design house Mediatek supplied Chinese cell-phone companies with cheap IC solutions, enabling them to produce budget-priced but similar quality cell phones comparable to their international peers. However, this concept is now being embraced by other segments, including NBs and household appliances.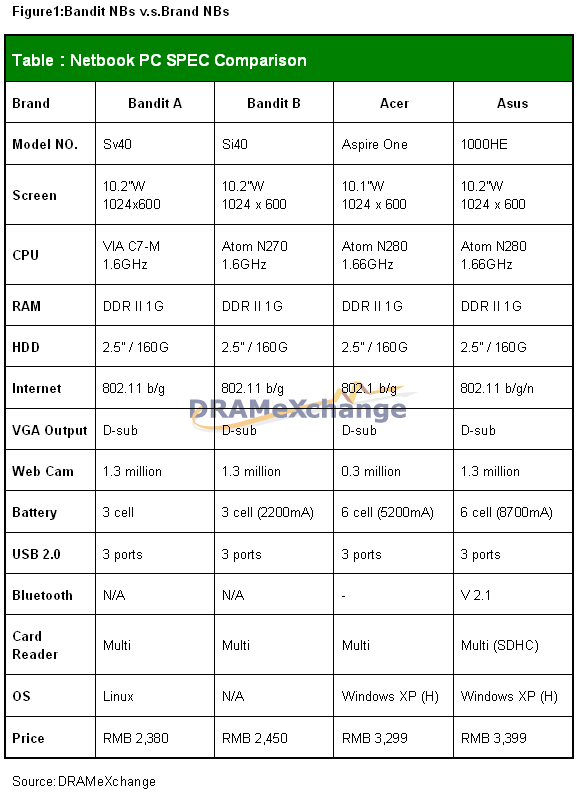 ---