DRAMeXchange indicates 2009 NAND Flash Demand Bit Growth Revise Down to 81%
---
---
Taipei, December 31, 2008 -- Due to the slow demand of NAND Flash related applications, DRAMeXchange continues to revise 2009 NAND Flash bit growth down from 108.2% in September, 95.3% in October and to 93% in November 2008. Along with the upstream vendor capacity cut in December, the total bit growth is estimated to decline to 81%. The NAND Flash bit growth numbers used to be 175% in 2006, 151% in 2007, and average 121% in 2008. The 2009 forecast number is comparatively much lower than the past growth rate reflects that the demand of the consumer electronics has dropped obviously.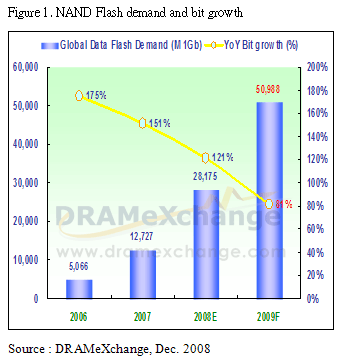 From the demand of all major NAND Flash related applications, the shipment volume shows a declining trend. Taking the mobile phone as an example, the 2009 forecast shipment is 1.16 billion units, a 5.4% decrease compared to 2008. According to the official announcement of Nokia, the total shipment of mobile phone declined 5% in 2008. Samsung and LG have also revised their 2008 mobile phone shipment forecast, down at 8% and 12% respectively.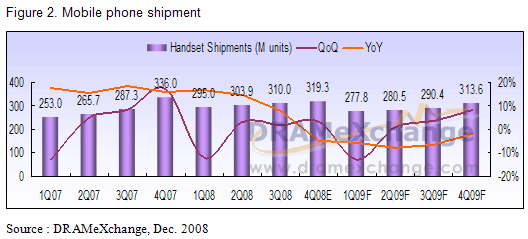 Digital camera shipment forecast of 2009 is 144 Million units. While comparing to the high growth in the past few years, the annual shipment growth in 2009 shows decline. Annual growth rate in 2007 was 21.3%, and slightly down to 18.6% in 2008. For 2009 shipment forecast, Canon's forecast has revised from 25 million units to 23.5 million units, and Sony from 26 million units to 24 million units.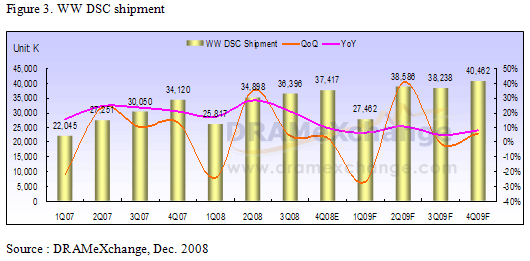 DRAMeXchange analyses forecasts 2009 annual UFD shipment volume to be 193 million units, 9% higher than in 2008. Comparing to 33% annual growth in 2007 and 26% in 2008, this growing trend will slow down. Since the desktop and NB computer shipments being revised once again, except a few products, which emphasizing on high capacity and high speed, keep certain degree of growth, the major huge growing momentum will come from the demand of gift market.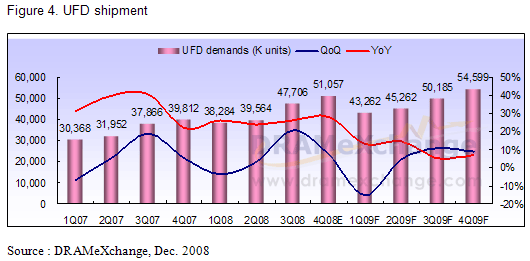 Market forecast of MP3/PMP shipment in 2009 to be 120 million units due to the slow demand. Comparing to the 14% high annual growth rate in 2007, the 2008 annual growth rate is estimated to be -2.4%, and -9.8% in 2009 due to new mobile phone featuring music player function and driving the MP3/PMP demand down quarter by quarter. As far as SSD is concerned, the short term demand mainly comes from industrial market, and the outcome in the low cost PC market is actually lower than expected, which was due to the price and the reliability issues. Most NB PC still mainly adopt HDD as its major storage device. The penetration rate of SSD in the low cost PC market will be lower than 10% in 2009.
2H December NAND Flash Contract Price
According to DRAMeXchange, NAND Flash contract price roughly rose 0-20% in 2H Dec. Recently, major NAND Flash suppliers announced to slow down their wafer production, we expect the wafer production to reduce about 10% QoQ in 1Q09. Moreover, NAND Flash suppliers plan to adjust their product mix, lowering the unprofitable portion of the NAND Flash related production. As the inventory level of some downstream makers is less than one month, although demand for NAND Flash remains weak, the expectation of NAND Flash supply reduction and healthier inventory levels have encouraged downstream clients to restock their NAND Flash products. This has led to some NAND Flash price to rebound in 2H Dec. Currently, electronics vendors remain conservative toward the sales expectation of Year-End and Chinese Lunar New Year holidays. However, in light of the reduction effect and healthier inventory level of downstream clients, it will help improve market sentiment, allowing NAND Flash contract price to become more stable.  
---