LEDinside Expects LED Chip Supply Strained Won't Be Eased Till Year End
---
---
LEDinside Expects LED Chip Supply Strained Won't Be Eased Till Year End
July 7, 2009
As demand for LED TV and LED NB expands, LED chips are running short of supply during the second quarter of this year, which has resulted in a more stable price of white LED compared to that of last year, according to LEDinside, a LED industry research house. In the later half of this year, it needs to be observed whether the capacity of Korean upstream LED manufacturers could enter into mass production successfully and whether the capacity expansion of Taiwanese manufacturers could progress as expected. LEDinside estimates that the short supply of LED chips is likely to continue until the end of this year.
Due to robust demand, high power LEDs with luminance above 80Lm/W are generally priced at USD1.5-USD2 in the second quarter, remaining flat or dropping slightly by around 5%. As for high-power LEDs with luminance between 60-70Lm/W, because of the abundant supply, are currently priced at around USD0.8-USD1.2, dropping by about 10% compared to last quarter.
LEDinside said that under strained supply, LED chip price of certain specifications has increased. Recently, demand of LED for large-sized backlight and lighting is stronger than in other fields, especially after the NB manufacturers increased the ratio of LED backlit products since the steep LED price drop last year. Moreover, due to Samsung's inventory pull-in of large-sized LED TV, LED chip supply chain remains tight.   
As to the lighting field, the number of LED packaging and lighting application manufacturers in mainland China continues to grow, which has led to high demand of LEDs for lighting since the first quarter of this year.
LEDinside: Q2 LED NB backlight penetration expanded to 42%, demand for NB LED expected to increase persistently
Additionally, the survey of LEDinside shows that NB vendors are rather aggressive in introducing LED backlight to their products. As the penetration of LED NB has substantially grown to 42% in 2Q09, and most new NB models in the latter half of the year will adopt LED as backlight, the demand of LED for NBs will continue to be boosted in 2H09.
In Notebook applications, the suppliers said that Toyoda Gosei and Nichia have the highest market shares currently. The mainstream specification of LED for Notebooks is between 2000 to 2300mcd, with the price ranging from USD0.07 to USD0.15. The price gap between Japanese products and Taiwanese ones is still substantial, and the Japanese manufacturers are not cutting prices by a large margin to compete for market share under the recent short supply of high luminance LED chips.
As for LED for Netbook backlight, the current mainstream specification is between 1800 to 2000mcd, and the price is around USD0.06-USD0.08, dropping about 5% in the second quarter. And the price difference between Taiwanese products and Japanese products is rather small.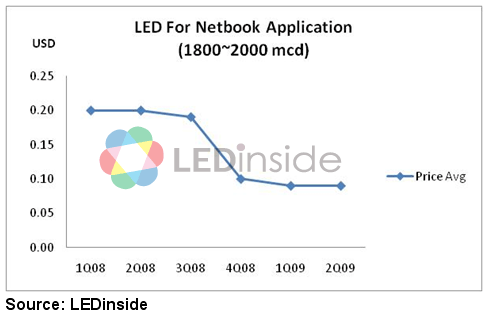 As a whole, on the back of the short supply of LED chips, prices of white LED for NB and Netbooks either remain stable or drop slightly. On the other hand, the 10*23 mil blue LED chips which can be used in backlights and has been packaged into low power LED lighting bars by many manufacturers, has seen price increase of 5~10% by some lighting makers.
Demand for generic cell phone recovers, underpinning cell phone backlight LED price, Q2 price slid by 10%
In cell phone applications, LEDinside said that the regular cell phone generally uses 1400 to 1600 mcd LED, while the smart phone are gradually adopting 1700 to 1800 mcd LED. Though the screen size of smart phones has expanded, customers are still more concerned about the brightness and uniformity of light, therefore the screens smaller than 3.2inch are still using 4 to 6 LEDs.
As the brightness of cell phone backlight is mostly below 2000mcd, the short supply of LED chips has not cast much influence to the cell phone backlight market, and a slight drop in price was observed. However, as the growing demand for generic cell phones underpins the price trend of LED, the price slid by around 10% during the beginning of the second quarter, according to LEDinside.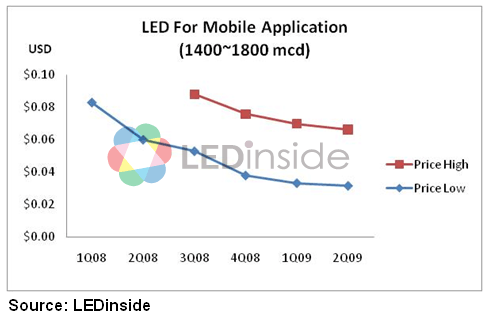 Q2 High-power LED price remained stable
As for high power LEDs, LEDinside pointed out that after the launch of OSRAM Opto's 100Lm/W products in its Golden Dragon series, the price of high power LED has dropped from above USD2.0/W to around USD1.7/W.
However, as demand for LED TV rises in the second quarter, the upstream chip makers have shifted their capacity to the mid-power LED chips, which has squeezed the output of high-power LED chips. As a result, the price of high power LEDs has remained stable during the second quarter of this year under the strained supply of upstream chips.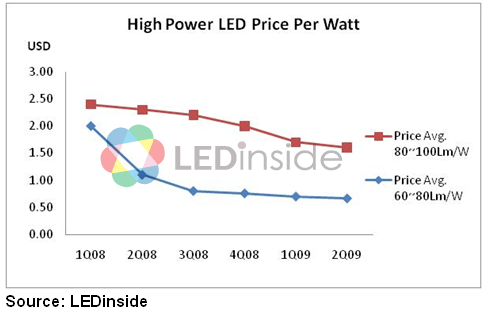 ---